Realty Floorplans™ are as-built CAD floor plans for marketing real estate on printed material and online.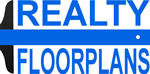 Website Mailing Address: WARD WALLER, PO BOX 3114, BLOOMINGTON, IL

Mobile technology is connecting customers to real estate online. Do you have every marketing tool in your realty toolbox?

Welcome to WardWaller.com

Ward Waller has worked in real estate for the past 20 years as a specialist in online real estate marketing. Ward owns and manages Realty Floorplans, providing marketing services including as-built marketing floor plans, for real estate professionals.